No reviews yet
Add Review
Cat'll Do Nicely
Licensed by Herefordshire County Council
Coney Croft
Leadon Cottages Road
Fromes Hill
Herefordshire
HR8 1HT


Tel: 07359 275841
Email: catlldonicely@outlook.com
Web: http://www.catlldonicely.com
Connect:
Facebook.
Please mention you found us on: findpetboarding.com
Boarding Facility Images
Reviews from Our Guests
Sorry, we don't have any reviews yet. Has your pet been a guest here? If so, help others by leaving a review about your experience: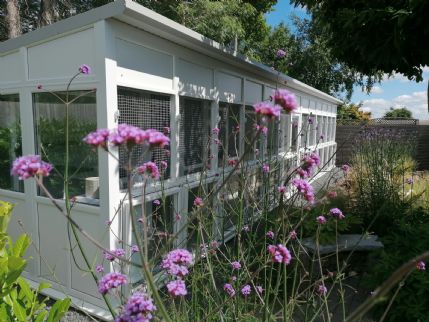 Note: Map only shows approximate location.
Location
Welcome to our new cattery, nestled halfway between the historic cathedral cities of Worcester and Hereford and 15 minutes' drive from the beautiful Malvern Hills and the market towns of Ledbury and Bromyard.
We take pride in giving your cat the best possible care during their stay with us. We offer spacious, modern accommodation and a professional, caring approach with CCTV in each suite for your pet's security.
We are situated down a side road off the A4103 between Hereford and Worcester, almost opposite Fromes Hill Services, where you will find a cafe, shop, Indian restaurant, army and outdoor store and a large tank! It is a three-minute drive to the Hop Pocket Shopping Village in Bishops Frome.
Our postcode is HR8 1HT but please note, some sat-navs may incorrectly direct you down a road behind the cafe and army store.
Open Hours
Monday — Friday
12 noon — 1pm
6pm — 7pm
Saturday
11am — 1pm
Sunday/Bank Holidays
Closed
Viewings by appointment only