No reviews yet
Add Review
Paws With Us
Licensed by Broadland District Council
29 Chapel Road
Hainford
Norwich
Norfolk
NR10 3NA


Tel: 077 99 643 675
Email: nickactually@yahoo.co.uk
Connect:
Facebook.
Please mention you found us on: findpetboarding.com
Reviews from Our Guests
Sorry, we don't have any reviews yet. Has your pet been a guest here? If so, help others by leaving a review about your experience: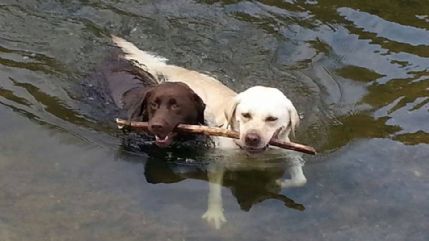 Note: Map only shows approximate location.
Open Hours
Paws with us offers home boarding for your dog as an alternative to kennels, whilst you are on holiday or just away for the day.
Your dog will stay with us in our home and be treated as a family pet.
They will stay in the house—no crates or kennels involved - (if your dog is used to sleeping in a crate and would feel happier with it you are more than welcome to bring it for them). During the day they have access to our large secure garden .
We have a resident dog—Marzie (Chocolate Labrador) who loves the company of doggie friends coming to stay. With this in mind we do insist that a pre stay visit is made to confirm that they are compatible.
Your dog will be treated as one of the family and exercised and played with every day (or to your dogs requirements).
To make your dog feel comfortable and at home we ask that you bring your dogs bedding and food
At your pre visit - or 'Sniffing out the holiday home' we will discuss your dogs daily routine, habits and exercise requirements, whether you would like them to be
exercised on or off lead (you will be required to sign a disclaimer in the event that your dog runs off whilst of lead) and introduce your dog to us and our home , so you can enjoy your holiday, safe in the knowledge your dog is enjoying their holiday too.
During your holiday we are happy to give you updates on how your dog is and what they have been up to, we can do this by text, whatsapp, email or Facebook
Messenger.
Your dog must be up to date with their vaccinations and be flea and worm treated