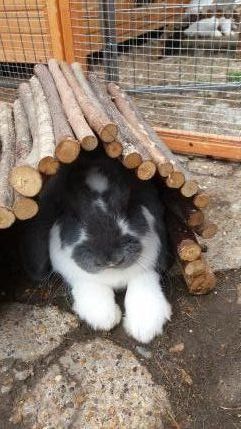 Note: Map only shows approximate location.
Location
Im based in TW5 0AG Heston Middx
Please phone or email for more information
Open Hours
Any time by appointment.
I also do home visits
Comments from Our Guests
"From the minute you meet Lynne (who is lovely) you know that she loves animals and really understands their needs. She looked after our little bunny Hops so wonderfully well and even sent us pics to keep us updated. Very accommodating. Hops even came very comfortable using his litter tray! Would thoroughly recommend ! "
From Angela Sharma on
"I found lynne on here, she is amazing and able to pick up bunny , she sent update to us every two days and bunny seem very happy . would recommend the service "
From Jade on
"Lynne looked after my girls Gigi and Loulou for 3 weeks. The girls love their stay ;-) clean space, perfect environment! Lynne is the right person to take care of pets. She loves animals and treats them with care and respect. 100% recommend "
From Fernanda on
"This is the second time Lynne has boarded our two bunnies she keeps us updated with photos.she clearly love animals and is very experienced.this time she also done home visit daily for our two cats.We have never had anyone come to our house to look after our cats she has excellent references for home visits Disclosure all of which I saw. She went above and beyond my expectations we arrived home to a little diary of what went on each day also had photos sent to us daily everything was clean and tidy.. I would never put my cats in a cattery again will always ask Lynne to visit. I didn't think it was safe to leave the rabbits in our garden as they wouldn't be able to be locked away at night."
From Rose on
"Lynne is a lovely lady who has a genuine Love of All animal. She looked after my two rabbits for two weeks.we were kept updated with photos of them which gave us peace of mind that they were happy and being well looked after I have no hesitation about recommending lynne and I will definitely be leaving my rabbits with her again"
From sophie on
"Very happy with Lynne looking after my bunny. She even sent me picture updates of what he was up to! Also very accommodating when I needed an extra few days care."
From Maria on
"Lynne was kind enough to take on my bunny at short notice after my original plans fell through for bunny care. Located near Hounslow West station I cannot fault Lynnes service offering at all. Not only did she come in come in competitively priced, she also was kind enough to come and meet me at the station on drop off and pick up and her friendly and personable nature made me confident that I had left my bunny with the right person. On a daily basis Lynne was kind enough to send me pictures of my bunny and as such, I was content that the bunny was in good hands. I would therefore not hesitate to leave my bunny rabbit with Lynne again. "
From Yvonne on
"Lynne looked after my guinea pig. She kept me updated on his daily activities while we were on holiday. It looks like he had a great time. If I need twiglet looked after again he would definitely go back to lynne"
From karen on

"Lynne has been very accommodating and helpful looking after Mocha and Sage whilst was away of vacation. I highly recommend Lynne services. "
From Amy on
"I found Lynne on findpet boarding. Com She was very professional and booked my rabbits in straight away. Very reasonable and affordable price for boarding. Thanks is the first time I used bunny boarding. But will return to Lynne every time we need this service. She was a lovely lady and even emailed me photos of our rabbit while we was away to let us know how she was. She even helped to litter train our rabbit . Great experience. Would highly recommend. "
From Vicky on

"I found Lynne on this website and I knew immediately from her caring phone manner that she was the person to look after Bernard our four year old rabbit, and she didn't dissapoint! The environment was meticulously clean and perfect for Bernard to enjoy and explore on his daily run. Lynne didn't disappoint either. A true professional with over thirty years experience. We were emailed daily pictures of a contented Bernard enjoying his surroundings. I would now only ever take Bernard to Lynne because the love and care that he received in two weeks was beyond what we expected! I actually think he is missing Lynne and his cuddles! "
From Eve Caro Wing on
"I found Lynne on this website. I phoned her about looking after my rabbit I asked if I could go and have a look before I left my rabbit with her she was more than happy for me to do this. I was very happy with her setup and left my rabbit there with her she was amazing with her she kept me updated while I was away. I have no queries about using her again"
From isabella on